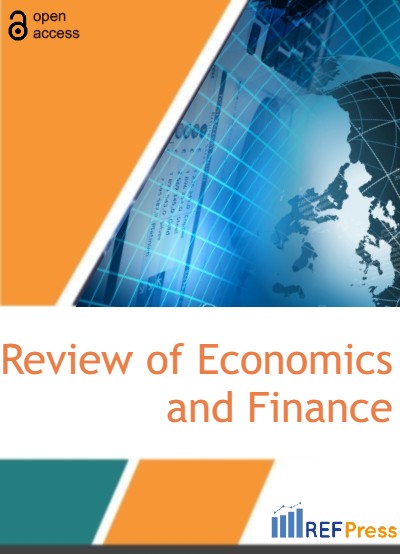 The National Model of the Smart Economy for Achieving the Goals of Innovative Development
(Pages 622-632)
Yevhenii Kostyk1,*, Serhii Tiuleniev2, Vasyl Goi3, Olena Kovalenko4 and Nataliia Pochernina5
1Associate Professor, Ph.D. in History, Department of Economics, Faculty of Financial, Economic and Vocational Education, Hryhorii Skovoroda University in Pereiaslav.
2PhD in Economics, Associate Professor, Department of Personnel Management and Labor Economics, Interregional Academy of Personnel Management.
3Doctoral Candidate at the Department of Economics and Marketing, O.M. Beketov National University of Urban Economy in Kharkiv, Candidate of Economic Sciences (Ph. D.), Director, Institute of Valuation and Forensic Science.
4Associate Professor, PhD (Economics), Department of Organization and Administration Management, Dnipr State Technikal University.
5Associate Professor at the Department of Economics and Business, Candidate of Economic Sciences (Ph. D), Associate Professor, Faculty of Economics and Business, Department of Economics and Business, Dmytro Motornyi Tavria State Agrotechnological University.
DOI: https://doi.org/10.55365/1923.x2023.21.65
Abstract:
The primary direction of economic development in modern conditions is the transition to the digital economy, which is caused by changes in the forms and methods of providing various high-tech consumer services. Digitalization is becoming the main tool for developing the world economy, and its role is significantly increasing. The competitiveness of each country depends on the degree of implementing innovative banking technologies as tools for creating digital financial ecosystems. It should be noted that the scientific community does not have a clear definition of the term "digital economy" yet. The transition from Industry 4.0 to Industry 5.0 has set new challenges for the national economy regarding the need to bring the mechanisms of operation and development to innovative standards. In practice, the evaluation of the economic results of implementing digital business technologies is practiced to finance the future development of the digital transformation of the business into an intelligent economy using the net present value method. It calculates income from investment projects in the digital economic system and allows cost reduction to their current value. The main reason for the difficulty of carrying out smart economy innovations and digital transformation of the national economy based on the elements of Industry 4.0 and Industry 5.0 concepts is the use of high discount rates. This approach to financing the digital transformation of business, focusing on the smart economy, does not allow for solving many economic problems, in particular, growing income inequality, and the state of the environment. The issue of investigations and empirical measurements of the smart economy and the digital transformation of the economy, as well as the prospects for the formation of a national model of the smart economy, are the objects of the present research. The academic paper proposes a scheme for responding to changes in the external environment and directions for adaptation to changes, based on the analysis of the prerequisites for forming the digital economy and creating a national model of the smart economy. Prospects for further scientific studies may include an investigation of the national economy's sectorial structure, an assessment of its effectiveness to improve the national smart economy model, as well as the development of cloud computing, the implementation of the latest bioengineering research, and blockchain development.
Keywords:
Modeling, development, innovation, digitalization, competitiveness.
How to Cite:
Yevhenii Kostyk, Serhii Tiuleniev, Vasyl Goi, Olena Kovalenko and Nataliia Pochernina. The National Model of the Smart Economy for Achieving the Goals of Innovative Development. [ref]: vol.21.2023. available at: https://refpress.org/ref-vol21-a65/
Licensee REF Press This is an open access article licensed under the terms of the Creative Commons Attribution Non-Commercial License (http://creativecommons.org/licenses/by-nc/3.0/) which permits unrestricted, non-commercial use, distribution and reproduction in any medium, provided the work is properly cited.