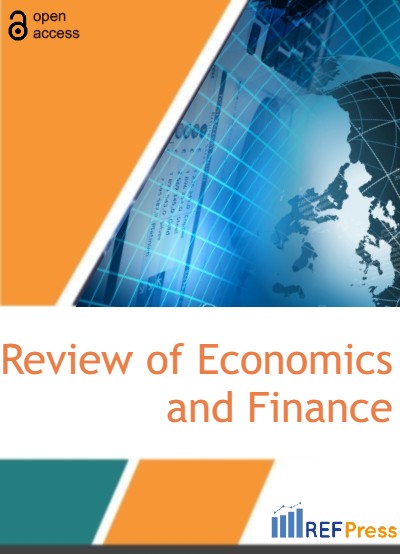 The Relationship Between Environmental Issues and Economic. Development: Transition to Sustainable Development of Economic Systems
(Pages 1497-1505)
Yevhen Kryvokhyzha1,*, Veronika Komandrovska2, Kateryna Horiunova3, Dymytrii Grytsyshen4, Larysa Sergiienko4 and Andriy Krap5
1Department of Agrobiotechnology, West Ukrainian National University, Ternopil, Ukraine.
2Department of Economics and Business technologies, National Aviation University, Kyiv, Ukraine.
3Department of Business and Rural Development Management, Vytautas Magnus University, Kaunas, Lithuania.
4Department of National Security, Public Management and Administration, Zhytomyr Polytechnic State University, Zhytomyr, Ukraine.
5Departments of Social, Humanitarian and Fundamental Disciplines, The Precarpathian Mykhailo Hrushevsky Institute of the Private Joint Stock Company Higher education institution "The Interregional Academy of Personnel Management", Truskavets, Ukraine.
DOI: https://doi.org/10.55365/1923.x2023.21.165
Abstract:
The study highlights the main environmental challenges of economic development of the world economy in the context of modern globalization processes. The problem of ensuring the sustainable development of economic systems is becoming more and more ambitious, and humanity's concern about the anthropogenic impact on the ecological safety of the Earth and all living organisms is growing. The main areas of sustainable development of economic systems are considered, and the main problems of humanity in terms of natural and human capital are outlined. A comparative analysis of the quality of life in different countries of the world, depending on the state of the environment, is carried out. The economic losses of EU countries from extreme climate events are estimated. The relationship between the economic footprint and GDP in different countries of the world is revealed. Instead, the global economy faces the risk of a prolonged period of low growth, all due to the effects of the COVID-19 pandemic, the impact of climate change, macroeconomic structural challenges, Russia's military aggression against Ukraine, and political instability. It is established that the global economic outlook is a direct challenge to achieving the Sustainable Development Goals. The global community must urgently address the growing financing gap faced by many developing countries, changing their capacity to make important investments in sustainable development and helping them transform their economies to achieve inclusive and sustainable long-term growth. The basic approaches to the formation of sustainable economic development of the world economy are outlined, taking into account modern realities.
Keywords:
Environmental problems, Sustainable development, Ecological footprint, Gross domestic product, World economy.
How to Cite:
Yevhen Kryvokhyzha Veronika Komandrovska, Kateryna Horiunova, Dymytrii Grytsyshen, Larysa Sergiienko and Andriy Krap. The Relationship Between Environmental Issues and Economic. Development: Transition to Sustainable Development of Economic Systems. [ref]: vol.21.2023. available at: https://refpress.org/ref-vol21-a165/
Licensee REF Press This is an open access article licensed under the terms of the Creative Commons Attribution Non-Commercial License (http://creativecommons.org/licenses/by-nc/3.0/) which permits unrestricted, non-commercial use, distribution and reproduction in any medium, provided the work is properly cited.